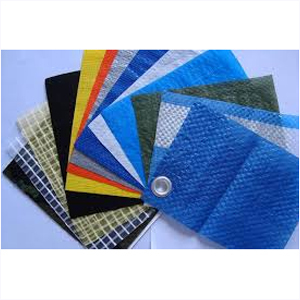 PE Tarpaulin
Product Description
Our company is emerged in manufacturing and supplying an extensive range of PE Tarpaulin. The tarpaulin has multiple usages and it is made by using fine quality Polyethylene that is procured from esteemed vendors. It is widely used in the agriculture industry for covering crops and grains as it provides shelter from the rain, sunlight and wind. In addition, the PE Tarpaulin is also used for covering open sheds and is available in different thickness and colors as per clients' diverse demands.
Features:
Suitable for covering those materials which are ready to transport
Excellent thickness
Withstand adverse weather condition

Description :
Product

Woven Tarpaulin

Material

PP or PE (Inner HDPE Woven Fabric, LDPE laminated both sides)

Weight

50 GSM / SQ.M 400 GSM / SQ.M

Width

2 meter or 4 meter without joint. Available for wider fabric by heat sealing or as the client's requirement

Denier

500 ~ 1800 Denier

Length

50 meter to 200 meter

Density / sq.inch :

6x6, 7x6, 7x7, 8x7, 8x8, 10x8, 10x10, 12x12, 14x14, 16x16 (2x3m, 3x4m, 3x5m, 4x5m, 4x6m, 5x8m, 6x8m, 6x10m, 2.5x3.6m, 3.6x5.4m, 5.4x7.2m, 7.2x9m, 10x50m )

Mesh

5x6, 6x6, 6x7, 8x8, 9x9, 8x10, 10x10, 10x12, 12x12, 14x14

Making

All edges with PP rope in hem; Four corners reinforced by plastic; Rustproof Aluminium eyelet in 1m (1 yard or 3 feet) interval; Four corner reinforced by plastic triangle. Each piece folded into a plastic bag with customer's label inserted

Package

Roll Goods: Packed on Paper Tubes & Wraped in the Same Tarpaulin Fabric

Ready-Made : A eyelet every 3 feet (about 1m) or customer-made, with four edges heat-sealed by pp rope in hem and four corners by black triangle.

Special treatment

Fire Resardant/Ultra Violet Protection, Frame Retardant treatment available upon request

Feature

Different sizes and colors are available. Tear-resistant super durability minimizes breakage during transportation and storage. Water-resistant and washable: it prevents contamination or damage from rain or moisture. Double waterproof surfaces, Reinforced corner. UV stabilized and sun-proof

Color

Green, White, Blue, Silver, Blue White, Blue Silver, Blue Orange etc., any colors as the client's requirements

Multi-purpose

For recreational vehicles, trucks, boats, cargo protection, construction sites, firewood, truck cover, trailer cover, equipment cover, ground cover, emergency shelter, painting tarp, trailer awning agriculture, garden, camping etc.

Delivery time

Within 35 days after receiving the prepayment

Other

Logos or other company information could be printed on tarpaulin. Reinforced strip (7.5cm) could be added.
Applications :
General Cover, Construction and Machinery Equipment Cover.
Covers for open-stored goods, Covers for trucks/automobiles/boat.
Covers for Swimming Pools and Garden Furniture etc.
Lining materials for storage tanks and containers.
Lining material for irrigation Canals and grain silos.
Industrial Cover, Tents, Picnic mats

Contact Us
20B, Teenmurti Bunglow, Nr. Devansh Bunglow, Surdhra Circle, Thaltej, Ahmedabad, Gujarat, 380054, India